Evelyn Allen Harper
Evelyn Allen Harper lives with her husband, Barry, in a home they built on the shores of lovely Pearl Lake near Empire, Michigan. She loves pets and currently shares her home with Earl, a dog from the Humane Society.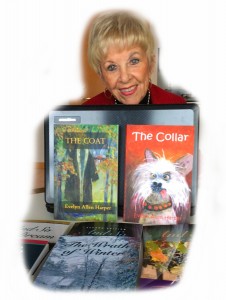 The daughter of a coal miner, Evelyn left the hills of Pennsylvania to attend Anderson College in Indiana (now Anderson University) and then to Michigan where she earned a Masters at Wayne State University.
She taught school until the birth of her two children, Jill and Tom. A constant delight in her life is her stepdaughter, Judith.
Evelyn would love to hear from you. Contact her at evharp15@gmail.com, or find out much more about her on her website at www.evelynallenharper.com.
BOOKS BY THIS AUTHOR:
The Coat
The Collar
Sweet Adeline
Essence
OTHER BOOKS BY THIS AUTHOR:
The Tale of the Unread  Book
Decisions
The Accidental Mystery Series
And So To Sleep
And So To Dream
The Wrath of Grapes
And So To Love
And So It Goes
The Wrath of Winter