About Ink Smith Publishing
Ink Smith Publishing is a small independent publishing house with big dreams. Our authors and editors work closely together to develop their books, marketing plans, and sales. We tiptoed through our first year, 2012, with only two books published. However, we have focused on preparing and publishing more books each year as we get a little older. Our books have sold internationally, including Canada and the UK.
We work openly with our authors and connect on all social mediums including email, Facebook, and texts. It may not be the traditional form of communication that other publishers use, but it allows our authors to get those eager questions answered as soon as possible. Further providing the dedication to our authors that we try our hardest to bring. We are a paying publisher offering a starting rate of 13% royalties for print books and 18% for e-books.
Originally, we wanted to focus our efforts specifically on three genres. However, as we grew we realized we wanted to publish interesting stories readers would enjoy. Scream If You Wanna Go Faster was the second book we signed. We decided to publish it not because it was just well written, but because we knew people wanted to read a great story with memorable characters and an exciting journey. It's simple, it's not about the genre or perfect writing here at Ink Smith, but the warm feeling you get as you finish reading a great book.
About Our Staff
Corinne Anderson, Publisher/Editor
Corinne graduated with her MFA in Writing from Lindenwood University after completing her B.A. in Journalism, and recently completed her MPS in Publishing at George Washington University. When she isn't buried in books she's devouring them, editing them, or making up her own. Corinne has been a copy-editor, headline writer, Editor-in-Chief and when needed, a book designer. Since her first trip to the library when she was a toddler, Corinne has been collecting books, recommending her favorites, and providing commentary on the less-than-stellar. Corinne's belief is that if you have a problem, it's nothing that a good book can't solve.
Angela Johnson, Children's Acquisitions Editor – Native Ink Press
Angela is an educator, editor, writer, and poet. She received her Masters of Fine Arts and Masters of Science in Education in New York City where she worked as an elementary school teacher. Her classroom was always filled with literature and she learned earlier on in her tenure that she wanted to edit/write children's books. Angela has been an editor for two years and currently works as a freelance writer and poet.
V.J.O Gardner, Layout Editor
Valerie is an award-winning author of several books including Dracona's Rebirth published by Ink Smith. In college, she studied writing and fantasy lit before graduating with an Associates degree in Communication. She has done editing, formatting and been a writing coach. Valerie has been an invited speaker at events like Comic-Con, FanX and writer's conferences as an expert in world building. She is currently working on a new series with help and hindrance from her cats. Although she writes young adult books they are loved by those who are young at heart.
Rachel Allcock, Fantasy Editor – Ink Smith Publishing
Rachel recently graduated with her B.A. in the Arts, majoring in English with Creative Writing Emphasis and a minor in History. She grew up around literature ever since entering the hallowed halls of the library and bookstores. She has been interested in book publishing ever since her Third-grade trip to a bookbinding facility. Her love for words influenced her overactive imagination to someday bring her own characters and stories to life, with hopes to be published. Reading and writing give Rachel a passionate and compassionate purpose in life. Rachel believes books provide life lessons and assistance when one suffers from harsh world realities.
Kayla Darling, Fantasy Editor – Ink Smith Publishing
Kayla Darling graduated from Lycoming College with a bachelor's degree in Creative Writing.  An avid reader and writer, she can usually be found with her nose in a book or squinting at a computer screen and hasn't been without a personal writing project since elementary school.  She currently works as a content writer.
Kelsey Ferrara, Fiction Editor – Ink Smith Publishing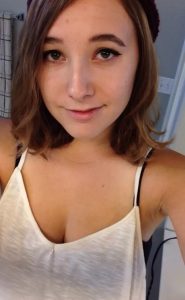 Kelsey has had an unwavering love of reading and writing ever since she was very young. She dreams of one day becoming a published author and has tackled a number of literary projects in order to improve her writing. Kelsey graduated from the University of California, Santa Barbara with a B.A. in English and a minor in Professional Writing. This minor allowed her to focus on Multimedia Communications which emphasized coding and digital writing methods. While attending this beautiful college, she also wrote for the campus newspaper and contributed regular columns to the food section. Outside of school, she worked as an editor for a number of different publications including The Fox Magazine and Vocalady Magazine.
Emily Joy, Fiction Editor Intern – Ink Smith Publishing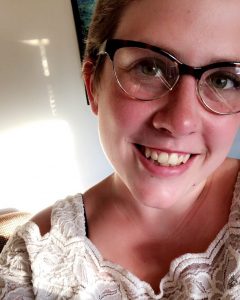 Emily has a BA in English and Gender Studies and was recently admitted to the University of Maryland, College Park for an MA in English Literature. This year, she embarked on a journey to not buy any new books until she finished all of the books she already owned and she is pleased to announce that she can finally buy new books again. She would like to thank caffeine for getting her through life and making her a more bearable person to be around.  
Monica Swanton, Creative Editorial Intern – Native Ink Press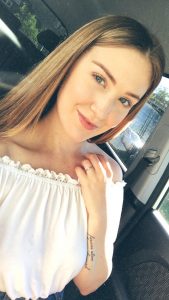 Monica is a senior at Framingham State University in Massachusetts and she'll graduate in December. She would like to work in publishing once she gets her degree, hopefully doing some editorial work. She writes poetry and posts some of her work on her 
Instagram
, but one day she'd like to publish a chapbook for her poems. Her favorite book is 
Leaves of Grass
, and she has an excerpt from "Song of the Open Road" tattooed on my left arm — it says, "forever alive, forever forward."
About Native Ink Press
Native Ink Press is the non-fiction and children's book imprint of Ink Smith Publishing.
Native Ink Press is dedicated to publishing the best in non-fiction and children's books. Starting in 2013, Native Ink Press has a very small acceptance rate and looks for the best stories out there.
The first book in Native Ink Press' catalog released in February 2014.
Just like Ink Smith Publishing, Native Ink Press is dedicated to its authors and creating a close relationship with each and every one. Together we can build a great foundation for selling books to eager readers.
For submission requirements, please visit our website: www.nativeinkpress.com/submissions-2/.